Please no calls before 8:30am or after 6:30pm (CST), Small Mom & Pop. Thank you for respecting our personal time.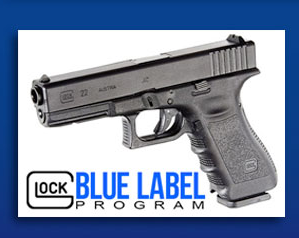 Authorized LE Blue Label Dealer
 To see our inventory, click the "LE Blue Label" at top, right of page or  "Click here" to see qualifying rules and our blue label inventory. Out the door pricing, far right column
Please note; per Glock rules we can only sale blue label to local customers. No mail order!
No special orders & no ammo at this time!
 Guns are in short supply. What is on our site is physically in stock. We are not honoring any request for special orders until further notice! At this time special orders can take 8 months to get. We have had our website down 5 months due to the overwhelming demand and lack of inventory. If customers blow up our phone asking for items we do not have or ask if we can order something, we will take our website down again. Just a FYI; We do not have any ammo. Local pickup will be on case by case basis due to Covid19. We will allow local pick for all our Glock Blue Label customers. Why are we being so harsh? We are 2 people and can only do so much in a day.
On my mind / Rant
With Covid, the riots, the election & now the Biden/Harris anti-gun nonsense, this has overwhelmed gun industry in 2020. To be blunt guns are in short supply and special orders can take up to 8 months to get. Our inventory has went from 2200+ guns to as low as 500 guns in stock. We are getting items in on Thursday to sale at a local show that Saturday. Our phone rings to the point I just take it off the hook. To my local customers that know and understand me….thank you for your support. I will be the first to admit that I'm NOT refined / pleasant on the phone. My phone presence is less than perfect but its to the point and honest.  My wife (the cute Secretary), is the nice one on the phone.  As many of you are aware we had our website offline for 5 months. We have been conserving inventory for upcoming gun shows. That does not mean call me to see if we have it!!!!! My answer will be no, we don't have it.  I will pull my website back down if you blowup our phones. Remember we are 2 people and only so much we can do in a 10 hour day. We must find a way to balance the high volume of calls and emails with getting customer orders filled, day to day operations and comply with ATF regs. No need to call asking "Do you have it",  "Can you get it",  "When will you get more",  "has it arrived yet", "Is it new",  "Is it in stock", How much is it" "will we negotiate" or "can I come over". God forbid do not call us after hours! Calling 8pm, 10pm  or 1am and hanging up on our answering machine is not cool……I will go off the deep end! Think about it, why call if your not going to leave a message.  At the end of the day I'm happy take care of any reasonable customer that understands they are buying a gun and not a pair of jeans. I'm one of those shop owners that believes and knows that customers are not always right!! Remember your buying a federally regulated item, your not going to your local wal-Mart for new pack of underwear. We did not get 3000 A+ feedback on GunBroker from screwing customers. I may be an ass but I'm an honest ass! The cute secretary (Tonya) will be answering the phone more, she's nicer but even she has her limits.
Industry News
All of us know the Fat lady has sung, Biden will be our new president. This will create issues in the gun industry. Issues that are circulating on the  internet I feel will never happen. We can potentially see a magazine capacity ban, although we hope not. Two new vaccines have been released to fight Covid-19. Although we will not be in line to take the vaccine, I do hope this will put the virus in our rear view mirror. Good American have passed and many others found hard times due to this virus. The 2021 Shot Show has been canceled due to the virus. This was disappointing, we were looking forward to getting away for a week. You can walk into any chain store and see the shelves are almost empty. We don't see things easing up till Summer of 2021. We are lucky enough to get inventory in every week. At this time gun shows come first and any surplus will be listed on our website. Local customers reading this, no local appointments will be honored. You must see us at a local gun show. Our show schedule is on our "gun shows" tab.
featured
products
S&W M&P9 Shield 3.1″ 9mm Bug Out Bundle; 5mags 13383

$

444.99 View Product