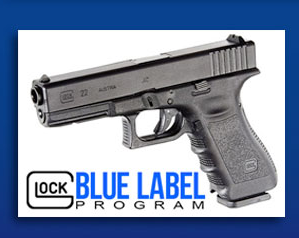 Authorized LE, Blue Label Dealer
 To see our inventory, click the "LE Blue Label" at top, right of page or  "Click here" to see qualifying rules and our blue label inventory.
See the salute to Veterans all summer long!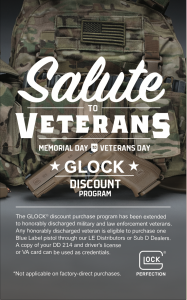 Glock Blue Label pricing extended to Veterans for a limited time!
 Honorably discharged military and veterans can purchase 1 Glock pistol at Blue label pricing. Copy of DD214 or VA card along with Drivers license can be used as credentials. 
 Sales & Incoming items
Coming in on Friday, Marlin 1894CB 45lc model #70444. These are a 200 savings, our price will be 675.00. Only have a few remaining of the Purple label (failed government contract), brand new Glocks. With over 125 savings, we still have Glock 41 gen4 MOS 45acp & the Glock 35 gen4 MOS 40s&w. Price drop on the Sig 238 Scorpion 380auto, down 40 bucks to 485.00.
Starting Tuesday and through the next week, Springfield's Gear-up models will be coming in. Basically instead of Springfield doing a rebate they put the rebate in the box on select models. Look for the models ending in "GU" in the model #. Gear-up models have 5 mags, mag pouch, holster, soft & hard case. We will only be getting in the 1911 Range Office parkerized 45acp, 1911 EMP 9mm, 1911 loaded parkerized 45acp, 1911 loaded SS 45acp, XDS mod2 3.3″ 45acp, XDS mod2 3.3″ 9mm
featured
products
Ruger Vaquero Bobby Taylor 5.5″ 357mag 1of500 5164 TALO

$894.99

View Product