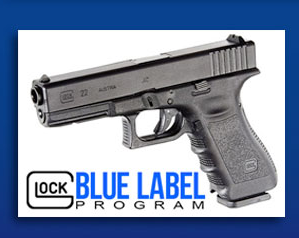 Authorized LE, Blue Label Dealer
 To see our inventory, click the "LE Blue Label" at top, right of page or  "Click here" to see qualifying rules and our blue label inventory.
ON SALE: 43X Bi-tone fixed or GNS!!
NEWS!
There is an overwhelming demand for guns during the uncertainty of Covid-19. I would like to help every customer but many of you know I'm one man with a cute secretary (my wife). This week I have had my phone off the hook more than it was on the hook. Please understand that when I take your order, I'm the same man filling that order. I'm doing my absolute best to get those orders filled and shipped ASAP. We have received negative emails from potential customers saying how sorry we are, we have bad customer service, we will not answer phone calls, etc.  In the past week I have been returning 100 plus emails daily, talking to 40 to 70 people daily, filling 10 to 15 mail orders, taking care of our in house appointments & I keep our website up to date. 
We are nervous about what is going on with the NICS system! Today the background check website (LEEP) went down. At this time we can no longer do background checks until the system is repaired. These are issues that are out of my control but we are bad mouthed by potential customers that fail to understand. I'm fairly certain the majority of our customers realize we are working our hardest to take care of our customers. I think this will pass and things will get back to normal in a few months