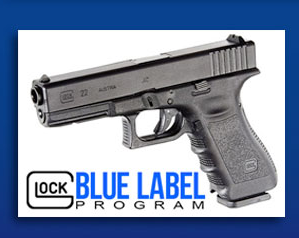 Authorized LE, Blue Label Dealer
 To see our inventory, click the "LE Blue Label" at top, right of page or  "Click here" to see qualifying rules and our blue label inventory.
See the salute to Veterans all summer long!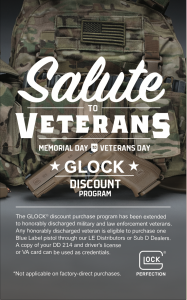 Glock Blue Label pricing extended to Veterans for a limited time!
 Honorably discharged military and veterans can purchase 1 Glock pistol at Blue label pricing. Copy of DD214 or VA card along with Drivers license can be used as credentials. 
New Stock & some additional Sales
Next Week we have 2 models of the Beretta A400 Extreme coming in. At big savings (over 200 off) plus you get a free Beretta Greenstone shotgun case with purchase. First one is #J40XD16, A400 3.5″chamber 26″ Black w/ kickoff 12ga……Great turkey gun!! This one MSRP's at 1750, normal dealer price 1425.00, & we will be below normal dealer cost at 1140.00. WOW! Second one: #JS40X08, A400 3.5″ chamber 28″ Mossy Oak Camo w/ kickoff 12ga. This one MSRP's at 1820, normal dealer price 1500.00, & we will be below normal dealer cost at 1199.00. FYI…..Beretta Shorguns are here and now on the web site. We received the new Sig 365 NRA Coyote tan Lipseys Exclusive. This gun is higher than the regular 365 but you get 3mags (1-12rd),  Full Coyote tan color, NRA 365 coin, special NRA prefix serial # & money goes back to the NRA with each unit sold. WE HAVE ALREADY SOLD OUT OF THE  NEW NRA 365'S. SHOULD HAVE MORE IN THE NEW 14DAYS OR SO!!
featured
products
Ruger Super GP100 Competition, Custom Shop 357mag 5065

$1,149.99

View Product