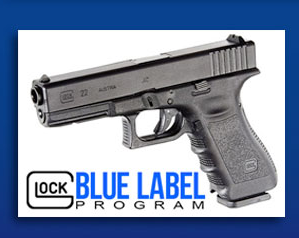 Authorized LE, Blue Label Dealer
 To see our inventory, click the "LE Blue Label" at top, right of page or  "Click here" to see qualifying rules and our blue label inventory.
ON SALE: 43X Bi-tone fixed or GNS!!
 Shot Show Specials!
Been back from Shot Show little over a week. For us personally, the 2020 Shot show was not as good as past shows. We did get a few great deals and were also allocated some great guns that some customers desire. Here are some of the great deals, most are already on the website. Sig 229 ESE Enhanced Elite NS 9mm $735.00, Sig 226R black 9mm $610.00, Sig 938 Blackwood 9mm for $495.00, Sig 365 with or without manual safety only $455.00. Taurus PT 1911 Stainless w/ rail & ambi slide lock for 500.00, Taurus G2C Black or Tan w/2mags for $200.00, Taurus 856 Ultralite (UL) black 38sp for $240.00 and the Stainless version for $248.00. Springfield XDM 3.8″ or 4.5″ in 40s&w for only $370.00, Springfield XDS gray 45acp for $395.00. We are running low on the Taurus Spectrums, remaining stock, all colors only $155.00……Discontinued, deep discounts. Last but not least, we got the new Glock 44 22lr, priced at $345.00.
Older News;
I finally finished my summer project. Constructed custom carts to make life easier setting up and breaking down gun shows. We built 8 pistol carts, 2 rifle carts, building 1 corner cart now and will build 1 Accessory cart in the near future. This ended up taking almost 3 months with trying to run the business and construct the carts in my spare time. I'm very happy with the way they turned out but will make a few changes to them next summer.
featured
products
Del-Ton Sport M2 FDE 16″ 5.56mm / 223 DTSPORT-M2DE NEW

$

469.99 View Product

FNH Five-Seven black 5.7×28 3-20rd mags 29300 NEW

$

1,099.99 View Product