Please no calls before 8:30am or after 6:30pm (CST), Small Mom & Pop. Thank you for respecting our personal time.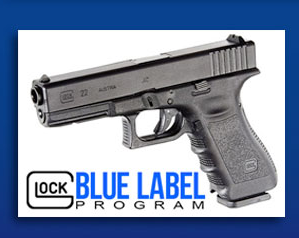 Authorized LE Blue Label Dealer
 To see our inventory, click the "LE Blue Label" at top, right of page or  "Click here" to see qualifying rules and our blue label inventory. Out the door pricing, far right column
Please note; per Glock rules we can only sale blue label to local customers. No mail order!
We are

finally

back online!
 Guns are still in short supply but much better then March of this year. What you see on our site is physically in stock! Currently we do not have all our in-stock guns uploaded to the website but I'm working on it. We will be listing items daily till we get all our in-stock guns back on the website. We are still not honoring any special orders until further notice! Special orders can take 1 week to 1 year, its hard to say. Our website has been down since mid January. We were forced to take our website offline due to the extreme demand & lack of inventory.  Local pickup is on a case by case basis due to bad actors in 2020. Yes, some people have forgotten how to act at somebody's home. We will allow local pickup for all our Glock Blue Label customers. Remember, we are only 2 people and can only do so much in a day.
On my mind 
As many of my long time customers know, we have had our website down since early January. I personally have put in 60+ hours getting products up to date. I reached out to the gentleman (Keith) that built my website 5 years ago to fix some items beyond my expertise. We have learned that Keith's cancer has returned and this time its in his lungs. A year ago it looked as if he was in remission and now this. It breaks our heart to hear that Keith is going through Chemotherapy again. We all know the toll that Chemo takes on the human body. Keith is a great guy! He built our site 5 years ago and taught me how to keep website up to date. He has spent hours on the phone explaining things and giving recommendations. He has a great demeanor with plenty of patience, me being hot headed and going 90MPH 100%  of the time. I can only aspire to have the patience & demeanor that Keith has. Tonya and I will be praying for a speedy recovery. I know he will beat it! He has beat it once already! We ask our customers to keep Keith in their prayers. 
As long as the industry does not explode again, we will keep our website up. Inventory is freeing up and coming in weekly. We will be listing items daily to finish getting our websites "products" back up to date. As of this moment, I'm 98% sure our products are accurate……in stock. Only issue I see are our gun shows. When we sell at gun shows, I may not update website till Sunday night or Monday morning. You have my word, we will  do our best not to advertise a gun we do not physically have in stock. This is something we are very anal about. We only advertise products we physically have in stock!  
featured
products
Colt 1911 Gold Cup Trophy 5″ Stainless 70 series 45acp O5070XE NIB

$

1,739.99 View Product

Magnum Research Desert Eagle Mk XIX Grim Reaper 6″ 44mag DE44WMDR NIB

$

1,724.99 View Product

Sale!

Browning MAXUS One 28″ Walnut/Blued 12ga #011736304 NIB

View Product