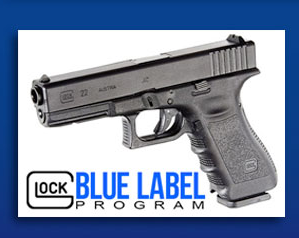 Authorized LE, Blue Label Dealer
 To see our inventory, click the "LE Blue Label" at top, right of page or  "Click here" to see qualifying rules and our blue label inventory.
ON SALE: 43X Bi-tone fixed or GNS!!
 Closed for 2020 Shot Show!
A quick note. We will be closed till 1/25/20 while we attend Shot Show. We will not be answering the phone and we forgot to change the message on the answering machine before we left. We will not be returning calls till 1/25/20 around 6pm. For the next week please Email me at ellisfirearms@att.net or sales@elliscountyfirearms.com. We will be checking email and returning emails every evening. 
Older News;
I finally finished my summer project. Constructed custom carts to make life easier setting up and breaking down gun shows. We built 8 pistol carts, 2 rifle carts, building 1 corner cart now and will build 1 Accessory cart in the near future. This ended up taking almost 3 months with trying to run the business and construct the carts in my spare time. I'm very happy with the way they turned out but will make a few changes to them next summer.
featured
products
Del-Ton Sport M2 FDE 16″ 5.56mm / 223 DTSPORT-M2DE NEW

$

469.99 View Product

Beretta 21 Bobcat inox 22lr 1mag J212500 NEW

$

336.99 View Product

FNH Five-Seven black 5.7×28 3-20rd mags 29300 NEW

$

1,125.00 View Product