Please no calls before 8:30am or after 6:30pm (CST), Small Mom & Pop. Thank you for respecting our personal time.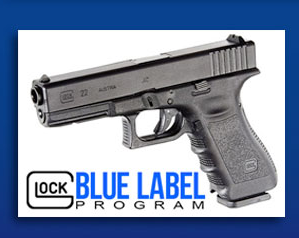 Authorized LE Blue Label Dealer
 To see our inventory, click the "LE Blue Label" at top, right of page or  "Click here" to see qualifying rules and our blue label inventory. Out the door pricing, far right column
Please note; per Glock rules we can only sale blue label to local customers. No mail order!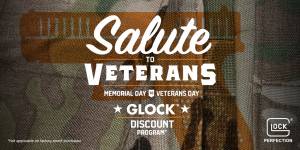 Salute to Veterans is back!
 From Memorial Day to Veterans Day, all honorably discharged veterans are eligible for one Blue Label pistol purchase through an Blue Label Dealer with your DD214 or VA card.
NOTE: Not allowed to ship Blue label Glock. Only for local qualified customers….pickup only!
Gun show news
Finally gun shows are back! We have updated our websites "Gun Show" page to promote the show we will be attending in June. For sure the new Market Hall show is occuring on June 20th and 21st. The Waxahachie show on June 13th & 14th is still up in the air but should happen. We will be operating a bit slower at the shows,  down 2 people. Normally my mother and father in-law help us at the shows. Since they are at the age affected by Covid-19, we will ask them to stay home. As summer is upon us, we don't see a big delay. 
My Rant
Well the craziness is coming to an end. To my local customers that know and understand me….thank you for your support. I will be the first to admit that I'm not that refined / pleasant on the phone. My phone presence is less than perfect but its to the point and honest. I will say things up front that many people/companies will say behind your back. My wife (the cute Secretary) is constantly holding up her hands telling me to stop bitching. I understand from a customer service standpoint I should keep my mouth shut and smile but I'm honest and unfiltered. It baffles me when a customer calls to order a gun and says I'm the cheapest he has found on a gun and then ask for a discount. Lets just say my blood pressure goes sky high. If baffles me that a customer we have scheduled an appointment for will call me from our driveway. In the world before cell phones you would go to the front door and ring the door bell. It also baffles me that a customer feels it necessary to call us at 10pm, 12am, 1am, 3am, 6am or 7am  and then hangs up on the answering machine. What gun shop is open at those hours. I do not feel it necessary to service customers that call during those hours. It baffles me that a customer will call 3, 4, 5, 6 or 7 times back to back and keeps hanging up. I asked one customer why and he stated "he did not like taking to a machine". lets say I needed extra blood pressure medication! Some say I'm rude and crude. We did not get 2700 A+ feedback on GunBroker from screwing customers. I may be an ass but I'm an honest ass! The cute secretary (Tonya) will be answering the phone more during the summer while I attend to our building addition. 
featured
products
Glock 40 gen4 MOS Gray 6″ 10mm 3mags PG4030103MOSGF NEW

Call for price View Product